In this project, we are looking for high school/college aged artists who want to help teach art & fashion classes to those who want to learn to create things to wear that are made ethically & sustainably! Classes will also incorporate learning about the social and environmental impacts of our current "fast fashion" industry as well as teach business skills, such as marketing, branding, profit creation, etc... In addition, items made in the class can be donated to help raise funds and awareness for local needs for girls. People involved in this project will be helping teach classes; creating new project ideas; promoting & marketing the goods; creating artwork for flyers & merchandise; etc...
*Note: You do not need to be an artist to be a part of this project, but you do need to be a creative and organized young woman with a passion to help others... Oh yea, and awesome!
Click here to get involved
Powered by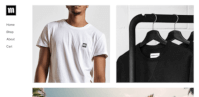 Create your own unique website with customizable templates.